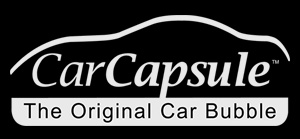 18 Ft. Indoor Tall Signature Series CarCapsule – CS18TF

Six reasons to buy the Signature Series CarCapsule
Thicker clear PVC.
0.35mm Clear PVC top cover, very clear, almost invisible hot air welded seams.
Like glass; much clearer PVC top cover.
Road Emblazoned Floor individually hot air welded.
12 Volt, 19.2-Watt, High-Output recirculating fan!
IntelliCharge dual use battery tender and recirculating fan power.
The Patent Pending Indoor Signature Series CarCapsule is a 24/7-365 days a year, vehicle storage solution. The CarCapsule™ protects your treasured vehicle from dust, dirt, dings, corrosion, mildew, musty odors, and pests while presenting it in a show quality display. It's a problem solver!
Designed with the serious car, or truck enthusiast in mind as a solution for maintaining that "showroom shine" all year-round, the CarCapsule; or "bubble", as it's known; provides an easy to use dust and dirt free enclosure for your prized car, or truck.
Easy as 1-2-3
Once your car is positioned on the basemat; attach the fan, zip it up, and plug it in. No assembly required. The washable charcoal filter and High CFM Fan will keep dust, dirt, and insects out, maintaining a pristine environment inside your Indoor CarCapsule for years to come.
Setup time is about 15 minutes. The CarCapsule comes in 16, 18 & 20 Ft. lengths.
CS18TF Indoor Signature Series CarCapsule Features:
Overall Size 18' - 216"x78"x80" (Length x Width x Height)

0.35mm clear PVC top cover.

0.70mm basemat is mildew, abrasion and flame resistant.

Heavy Duty Basemat Impervious to oil, gas, and antifreeze.

Rust free;100% Nylon "self-healing" coil zippers.

No metal parts inside! No metal frame! No bare metal!

Fan: 190 CFM @ 4200 RPM, dual ball bearing, for continuously filtered airflow.

12 Volt, 1.5A power transformer.

Includes fan, power supply, and washable charcoal filter.

1-year warranty.

Weight: 64 lbs.

1 Year