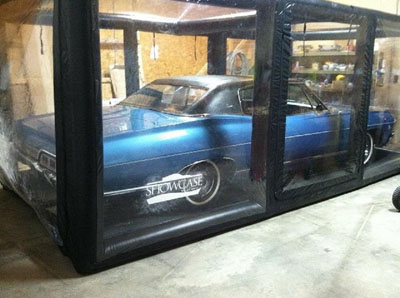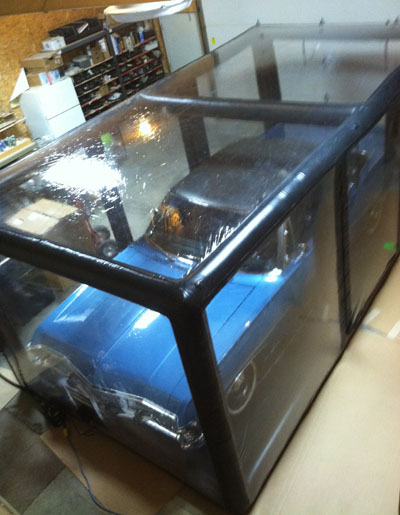 Lisa Fleishman says:
Just wanted to give you an update on my Car Capsule Showcase that I purchased 2 years ago. As you can see from the attached photos, my Showcase is located in a working garage. It's a very dusty location and sees a fair amount of traffic coming and going. I never have a second of concern for our low mileage original 1967 Caprice to be stored in that garage. The Showcase keeps the vehicle dust, ding, and rodent free. I store the Caprice in the Showcase 365 days a year. In that time, I've come to really appreciate a few things about the Showcase.
The product keeps my vehicle completely dust free. Thanks to the circulation of the air through the Showcase, my vehicle is always fresh and ready to hit the road. There are no musty smells or random critters or mice in my vehicle. It doesn't matter if it's the middle of August when its 100 with high humidity or the depths of December when it can be -30. The product performs dependably day in and day out.
The good news about my Caprice when we bought it was that it had extremely low miles. The bad news was that cars don't much care to sit for 50 years without running. ;) We had to spend some time fixing a few quirks. As such, the floor of the Showcase has seen its share of oil, antifreeze, etc… since I purchased it. The floor of the Showcase cleaned up like new with nothing more than a soapy mop to wash and a shop towel to dry. What's nice about that is my concrete floor received no stains while I was fixing this leak or that and the Showcase floor did not stain either.
Because the Showcase is so much easier to use than a regular car cover, I end up getting the vehicle out and enjoying it more often because there is no big production involved in going for a spin. I unzip the Showcase which takes about 5 seconds, and then we're out and about. Same story for putting the Caprice away. Waaaaaay easier than a California Cover and because the Showcase stands on its own, I don't have to figure out where to store a car cover while its not in use.
The most common question I have received about the Showcase has always been, "Is it really worth the money?" There's no doubt this is a premium product, and it has the associated price tag to match. The answer is, yes. This product is absolutely worth the cash. I last detailed my vehicle in October in preparation for winter storage. There is not a speck of dust anywhere on the car. Let me repeat that: 4 months later, located in a dusty working garage, and there is zero dust on the car. It's pretty impressive when you think about it. There are no spider webs. There are no random smells, no unwanted rodent tenants, no accidental dings, and no hassles. And when I pull this thing out of the garage in May for summer cruising, I'll have no detailing work ahead of me. The car will just be ready to go. This product allows me to keep my vehicle looking awesome and because of the ease of use, we end up driving it more often.
Anyway, these are just a few of the reasons we really enjoy the Showcase. Thanks again for the fine product, and best of luck to you and your company with your future endeavors.