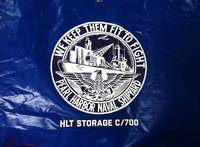 Remember that old commercial "Orange juice – it isn't just for breakfast anymore"? Well, it could also be said "CarCapsules – they aren't just for storing vehicles anymore". People are finding all kinds of interesting uses for both CarCapsules and ShowCases.
The US Navy, Pearl Harbor Naval Shipyard, came to us asking for a custom sized and colored version of the Outdoor CarCapsule for storing a Heavy Lift Transport Unit. It is used when they dry-dock a ship to remove the prop shaft which weighs several tons. The unit creeps under the back of the ship and can perfectly align under the shaft for removal and installation. The equipment is computer controlled and very sensitive and sophisticated. Our product keeps the unit dust & dirt free along with providing a condensation free environment.
People are storing firewood in CarCapsules to keep it dry and free of pests. We're seeing requests for mini CarCapsules to put computer equipment in dust free yet ventilated storage. The list goes on and on.
The free standing design of the ShowCase offers a whole other realm of possibilities. Factory production floors are using them as clean rooms. The ShowCase is also being used for portable offices - they can be easily transported and set up in minutes at job sites and events.
It seems the only limitation for CarCapsule and ShowCase use is imagination!