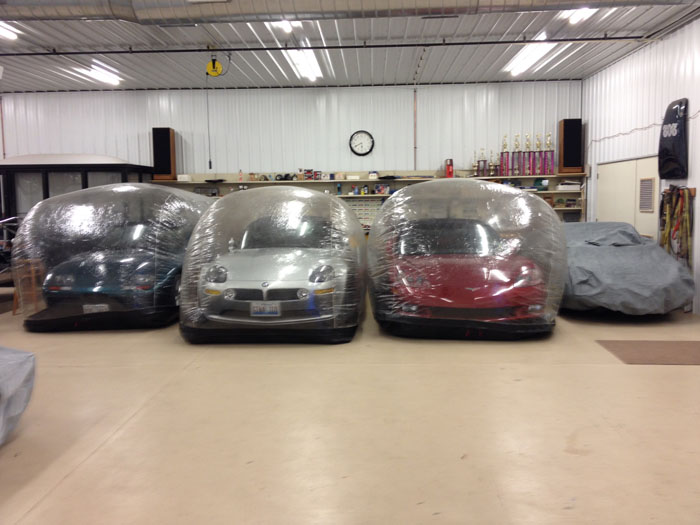 Tom Vinje tells us about his unique car collection, and protecting it with CarCapsule
Q: How long have has your CarCapsule been in service?
A: I have three of them – the first I bought in 2002 or 2003 right after I got the 2001 BMW Z8, the second I got in 2005 for the BMW Z1, and the third I bought in 2009 for the Corvette roadster.
Q: Which models are they?
A: They are all Indoor CarCapsules
Q: You have some interesting vehicles – especially the BMW Z1 – what's the story with that?
A: I had seen the car in a variety of car magazines was intrigued with it. The car wasn't sold here in the US. I and finally decided to get one and found my car on ebay being sold by a fellow in Texas. He went to school in Italy and had seen the cars being driven around, and really liked them. Later, when he came back to the US he located one in a BMW dealer showroom in Dusseldorf, Germany. He got in touch with an associate he knew in Germany and had the car shipped to the US. Later it was put up for sale on ebay and I won the auction. My mechanic and I went to Dallas to check it out, and then I had it shipped to Illinois. The car was brought in to the US with a show and display title which allows it to be registered in the US, but can only be driven a limited number of miles to maintain the show and display status. If it is driven over that limit the car can be confiscated by the government and crushed. Once the car is twenty five years old it can be registered normally. There are only ten Z1's in the US.
Q: How did you hear about CarCapsule?
A: I was subscribed to a number of major automotive publications and saw an ad
Q: What was the reason you purchased your CarCapsules?
A: We owned a mini-storage which had a climate controlled unit we used to build vintage race cars. We called the "speed shop". The speed shop also had an adjoining carpentry shop, paint spray booth, and a powder coating booth. I also stored my vehicles there, and needed to protect them from the all the stuff that was flying around – so I used the CarCapsules to do that.
We eventually sold the storage unit, and now I use them in the garage of my house. They are really good at keeping rodents away, as well as preventing mold – the cars don't get a moldy smell. They also keep the cars clean. I have found even in a closed and climate controlled garage mice find their way in. CarCapsule keeps them away from the cars. Also, people who look at the cars sometimes bring their children, and I found the cars would sometimes get scratched when they got too close. The CarCapsules keep them separated.
Q: Have you ever had any problems with your CarCapsule?
A: Early this spring a motor went, and I called and got a replacement. Otherwise, they are original and have been operating fine. The zippers till function properly too.
Q: Overall, how do you feel about your CarCapsule?
A: I am extremely pleased, and am a faithful disciple!