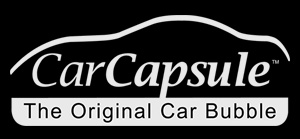 12 Ft. Indoor Signature Series CarCapsule – CB12
Six reasons to buy the Signature Series CarCapsule
Thicker clear PVC.
0.35mm Clear PVC top cover, very clear, almost invisible hot air welded seams.
Like glass; much clearer PVC top cover.
Black & white; individually hot air welded, checkerboard floor.
12 Volt, 19.2-Watt, High-Output recirculating fan!
IntelliCharge dual use battery tender and recirculating fan power.
The Indoor Signature Series CarCapsule is a 24/7-365 days a year, vehicle storage solution. The CarCapsule™ protects your treasured vehicle from dust, dirt, dings, corrosion, mildew, musty odors, and pests while presenting it in a show quality display. It's a problem solver!
This CarCapsule is perfect for those looking to give their car some serious protection for off-season storage and longevity. With 190 CFM at 4200 RPM, the dual ball bearing fan will keep your capsule inflated and sturdy at all times. The checkerboard floor and Intellicharger included are sure to make any collector enjoy showing off their precious vehicle, making it a practical choice for any car enthusiast.
Easy as 1-2-3
Once your car is positioned on the basemat; attach the fan, zip it up, and plug it in. No assembly required. The washable charcoal filter and High CFM Fan will keep dust, dirt, and insects out, maintaining a pristine environment inside your Indoor CarCapsule for years to come.
Setup time is about 15 minutes. The CarCapsule comes in 12, 14, 16, 18, 20, & 22 Ft. lengths.
CB12 White Signature Series CarCapsule Features:
Overall Size 12' - 144"x72"x60" (Length x Width x Height)
0.35mm clear PVC top cover with 0.45mm basemat that is mildew, abrasion, and flame resistant
Heavy Duty Basemat Impervious to oil, gas, and antifreeze
Rust free;100% Nylon "self-healing" coil zippers
Fan: 190 CFM @ 4200 RPM, dual ball bearing, for continuously filtered airflow
12 Volt, 1.5A power transformer
Includes fan, power supply, and washable charcoal filter
1-year warranty
Weight: 36 lbs